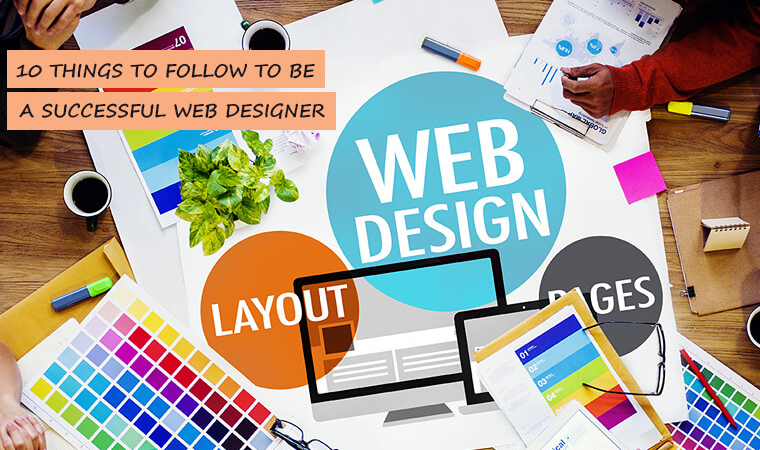 10 things to follow to be a Successful Web Designer
Are you a web designer working in a company of repute? If yes then you might be aware of the fact that there are certain things that if followed can transform you into a person with impeccable web designing skills. Web designing is not just an art, it is a science as well. The technical work includes the coding and the design while on the art side, there comes the planning and the visual imagination of what looks and may look good.
In order to ensure that as a web designer you outshine others, it is essential that you break your comfort zone and keep challenging yourself. In addition, you can make use of the following tips and acquire the expertise of successful web designing:
Familiarity with the design process
A successful design is a master in the entire web designing process. The very basics of designing should be crystal clear in the mind of the designer. These include the color, flow, spacing and the balance and proportion.
Coding with HTML and CSS
Any website designer needs to have the basic knowledge of how to read, edit and troubleshoot basic HTML. You also should be able to font, color or size the issue in HTML and substitute styles in CSS with utmost ease.
Photo Editing
Being a web designer, you have to play with images all day long and therefore you must know how to manipulate them. This includes the cropping, sizing and the cleaning of the image. You should be able to manipulate photos to steal the maximum attention.
Writing headline
An expert web designer keeps in mind that he or she writes down the proper headline as words can create magic by bringing the visuals and the message together. A good headline can create a long lasting impression on client as well as people.
Navigation of the website
Now there is one thing that most people cannot do but you must be able to do and that is an ease of playing with computers and devices. This becomes necessary when a client shows you the screen on a phone for help to understand something.
Sketching before working
Before starting with your web designing work, it is essential that you sketch the imagination that is going on in your mind in order to let others know as well. You should put your ideas on paper to create something that looks unique in the end.
Common framework to be used
Now you should not hesitate in using a website design framework to initiate your work. Frameworks offer the advantage of ease of use if you are handling the website to the client that requires maintenance and making updates. WordPress is a good option.
Backup of the site
As a successful web designer, you need to keep a backup of the website to prevent any data loss in case anything happens to the website. You should also know how to create package files for website styles. This can be used as a backup and provide vital information to the clients.
Knowledge of the latest trends
If you are a web designer then you must be aware of the latest trends and developments in the field of web designing. You must grasp enough knowledge to be able to talk to anyone regarding the technical innovations taking place in the field of web designing.
Great listening and business skills
Remember that you are selling your web designing talent so you need to master some business skills as well. Also, since you would be dealing with clients and listen to their advice and instructions, you need to be a good listener at the same time as well.
The whole thing sums down to just one line-The more you work upon yourself beyond the comfort level of web designing, the more you move closer to the master status.
Daksha Design is one of the best web design company in India having team of experienced web designers. If you are looking to outsource your web design and development project, you can reach us to hire dedicated web designers.
Post Comment
Fields marked with an asterisk (*) must be filled out before submitting.
Daksha Design is available 24/7 365 days a year. © 2018 All Rights Reserved