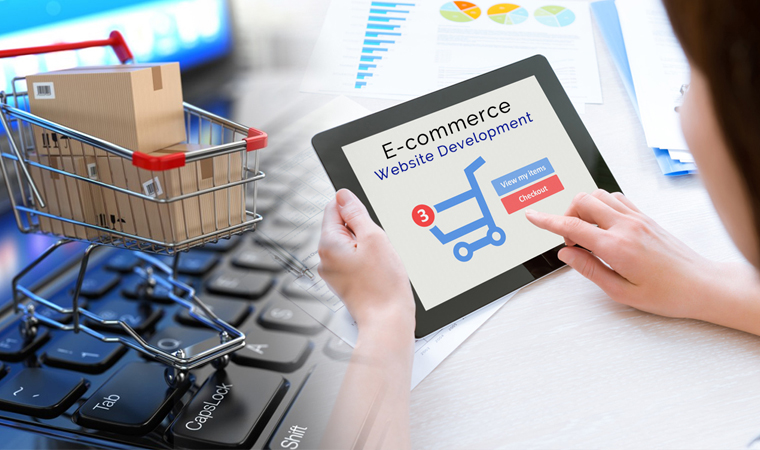 Top 10 most popular ecommerce website development platforms 2018
The intense competition and the ever increasing demands of consumers have propelled e-commerce companies to come up with various ecommerce website development platforms. Today, there are a whole lot of such platforms available for the benefit of the consumers. The current year has seen the emergence of many platforms which have become popular widely owing to their ease of use and the benefits they offer. Following are the top 10 ecommerce website development platforms that have gained prominence in the coming year:
Shopify
Here comes the most sought after website development platform. It hosts above 325,000 active online shops and mainly focuses on social commerce and mobile shopping. The huge benefits of shopify include:
Option of over 100 store templates (themes)
1500+ apps (plugins/extensions) to extend the functionality of the store
Benefit of connecting your online store with your Facebook page and then selling directly on Facebook
BigCommerce
BigCommerce was launched in 2009 and presently hosts over 55,000 online stores. It is one of the top ecommerce software providers. This platform serves many stores that include the reputed Martha Stewart & Toyota. Owing to its exhaustive list of built in features, BigCommerce is the perfect option for those who possess no technical knowledge or do not want to indulge in any such thing.
BigCommerce offers the following benefits:
No transaction fee
Lots of built in features like shipping, newsletters, tax, coupons etc.
Responsive free and paid themes
Volusion
Another ecommerce platform, Volusion offers fully cloud-based solution to users. It comprises features such as "deal of day", MyRewards program, Amazon and eBay integration and many more things to retain customers and build brands. The benefits of using Volusion include:
User-friendly interface to easily manage the store
It becomes easy to simplify the store managing process using Volusion
Comprises some great features like deal of the day, posting YouTube videos on page, coupons, discounts, wish list etc.
Wix
This eCommerce platform helps in building a functional online store for selling products. It offers features like ready templates, drag-and-drop editor. This transforms the look of your store and makes it look professional without any design experience. Wix offers the following benefits:
It is a very economical platform to use
The ease of use it offers is great. You do not require any coding knowledge
Simple integration is yet another benefit. Wix lets you add several third party tools like Google Analytics without compromising on the usability.
3dCart
This is one website that offers the option of selling both physical as well as digital goods. It offers various selling tools such as mobile selling and social selling on Twitter, Facebook and Pinterest. In fact, it incorporates everything that a good website development platform should offer. Following are the benefits of 3dCart:
It offers simple and customized mobile templates and themes
It comprises rich SEO features like Google, Bing and Yahoo
It helps maintain a competitive advantage through its latest technology innovations and functionality features.
PrestaShop
This is a free, open source platform that helps to manage the online store in real time. It consists of more than 275 features that include product management, Checkouts and Shipping, store management, SEO, Marketing, Reporting and much more. PrestaShop can help owing to the following advantages:
It is easy to customize and understand
It comprises less development cost and easy debugging
It is quite easy to set up and maintain
OpenCart
This ecommerce platform is free to use and upgrade. Some of the best features of OpenCart include products and manufacturers, unlimited categories, more than 20 payment gateways, Multilingual, PCI Compliant, etc. OpenCart rocks because of the following benefits that it offers:
Simple Store setup
Multi-store functional feature
Zero installation cost and great functions and features
Magento
This is considered as the market leader among ecommerce platforms. Many renowned brands such as Burger King, Huawei, Pepe Jeans & Liverpool F.C use Magento. It is also the best ecommerce platform for enterprise level online stores. It offers the following important benefits:
Open to all sorts of customization
 Free extensions to enable selling on social media platforms
It is easier to use as well as manage
YoKart
It has been built with the main focus on helping startups build ecommerce ecosystem easily. It is the one-stop solution for launching multi-vendor stores like eBay and Etsy. It comprises lots of features and has a smart pricing model. The main benefits that YoKart offers are:
Mobile-friendly platform and Android app for marketplaces
Ready-to-launch multi-vendor marketplace solution
Ownership of source code and easy customization of portal to the requirements
Big Cartel
It focuses on artists and other small-scale home-based businesses run by individuals. It is extremely simple to use and is often regarded as the best medium for artists and other creative people to enter the ecommerce arena. The main advantages of this platform include:
Facebook shop access
Aesthetically sound themes
Comprehensive Help Center
These are some of the most amazing ecommerce website development platforms 2018. Contact Daksha Design one of the best Ecommerce website development company in India and get ready to witness some amazing benefits.
Post Comment
Fields marked with an asterisk (*) must be filled out before submitting.
Daksha Design is available 24/7 365 days a year. © 2018 All Rights Reserved